Navan Fair International Heavy Horse Show
The Navan Fair hosts one of the largest draft horse shows in Eastern Ontario and Western Quebec.
Confirmation Classes
On Thursday, Purebred Percheron, Belgian and Clydesdale horses compete for individual Championships culminating with the Eberglo Draft Horse Challenge!
Exhibitors from across Ontario, Quebec and Northern New York State take part.
Hitch Classes
Experience the power of the Draft Horse as exhibitors compete in Hitch classes on Friday night, Saturday and Saturday night.
From cart classes to the ever popular North American Six Horse Hitch Classic Series competition is tough and energy is high.
Fun for the whole family!!!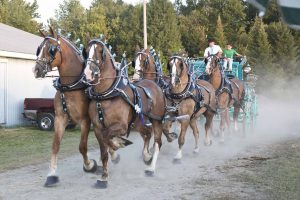 WESTERN HORSE SHOW
This competition will be running from 11am, all day Sunday in the Arena.
The show consist of five races, Barrels, Pole Bending, Flag, Keyhole and Dash. with different age divisions, from 3 years old to 65 years young.
The object is that the rider and horse together must run as fast as possible without dropping an obstacle, if so they are disqualified, and the fastest time wins.
Hope to see you there, cheering your favorite team.
LIGHT HORSE SHOW
The Light Horse Show is a complete show with ten divisions including children's pony, harness pony, hackney pony, roadster horse, miniature horse and Morgan/Arabian horse