Friday:  11:00   1:00    3:00
Saturday:  noon      1:00        3:00
Sunday: 11:00        1:30       3:00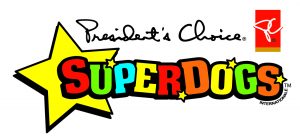 The President's Choice SuperDogs are letting loose and going country in their fast-paced, fun-filled, honky-tonk show, WILD WILD WOOF! You'll laugh and cheer as the sensational Superdogs jump, dance and play to the glitz and glamour of contemporary country hits!
Then keep the party going after the show at their famous Pat N' Chat™ where you can meet the stars AND get some awesome gifts from President's Choice Nutrition First™ dog food—the official fuel of the SuperDogs!
For the past four decades the SuperDogs have entertained millions across Canada and around the world with some of the most original family shows every created. Their unique brand of feel-good fun has been showcased on more than two dozen television specials, in the feature film Daniel and the SuperDogs, and live at iconic fairs, exhibitions and arenas.
Come and enjoy all the fun and excitement of their western show Wild Wild Woof at the Navan Fair!